Lochinvar Residential Gas Water Heater
Lochinvar's Residential Gas models are available in capacities of 30, 40, 50, 65, 75 & 100 gallons in tall and short configurations. All models meet or exceed the NAECA and ASHRAE Energy Efficiency Standards.
Shield Flammable Vapor Ignition Resistant (FVIR) Combustion System
Burner Sight Glass
Green Choice Gas Burner
R8 1" Foam Tank Insulation
Dielectric Nipples
Easy-to-Light Piezo Ignitor
Glass-Lined Tank with Magnesium Anode Rod
Durable Brass Tamper-Resistant Drain Valve
Temperature & Pressure (T&P) Relief Valve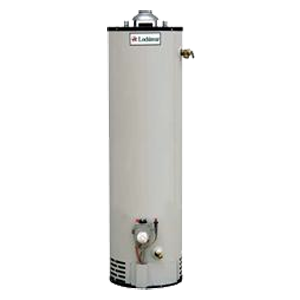 This limited warranty covers both the glass-lined tank and component parts for leakage or other malfunction caused by defects in materials and/or workmanship. It extends to the first buyer and to any subsequent owner(s) as long as the water heater remains installed at its original place of installation.
Tank and Functional Parts - 6 Years