Lochinvar Knight Wall Mount Gas Boiler
The KNIGHT modulating-condensing heating boiler has consistently delivered everything the professional needs for ease of installation and maintenance, and everything homeowners need for total comfort and long-term savings on energy costs. operating control that has quickly become a legendary benchmark among the trade! For traditional space heating or radiant floor heating applications, KNIGHT offers your customers tremendous savings on energy costs compared to less efficient boilers.
EnergyStar Qualified
Up to 96% DOE AFUE Efficiency
Modulating Burner with 5:1 Turndown

Direct-Spark Ignition
Low NOx Operation
Field Convertible from Natural to LP Gas

Vertical & Horizontal Direct-Vent

PVC, CPVC or SS Venting up to 100 Feet
Factory Supplied Sidewall Vent Termination

ASME Stainless Steel Heat Exchanger
Inlet & Outlet Temperature Sensors
Boiler Circulating Pump
Zero Clearances to Combustible Material
Adjustable Wall Bracket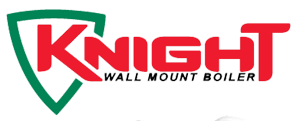 Lochinvar Knight Floor Mount Gas Boiler
Smartest Design SMART SYSTEM is the industry's most advanced operating control. Right out of the box, it gives you unequaled control and monitoring functions that are easy to understand and use.
2 line, 16 Character Display
Dual Level Password Security
Domestic Hot Water Prioritization
Built in Cascading Sequencer for up to 8 Boilers
Outdoor Reset Control with Outdoor Air Sensor
Low Water Flow Safety Control & Indication
Alarm on Any Failure Contacts
Service Reminder
Freeze Protection
Night Setback
Time Clock
Boiler Circulating Pump
Three Pump Control (System, Boiler & DHWP)
Data Logging