Lochinvar Residential Electric Water Heaters
Every unit features a sophisticated design for high efficiency, low standby loss, high first hour delivery and money saving performance. All water heaters are triple tested during fabrication toensure the highest standards of quality and performance for a long service life.
Immersion Type Heating Elements- tin-coated, copper sheath design for longer life inhard, aggressive water
Screw-In Element Mounting
Adjustable Thermostat and Automatic Overheat Safety Limit
Non-CFC Foam Insulation- Reduces standby heat loss
Dielectric Nipples
Heat Traps - Factory installed, minimizes heat loss through piping
Glass-lined Steel Tank
Magnesium Tank Saver Anode
Durable Brass Tamper-Resistant Drain Valve
Temperature & Pressure (T&P) Relief Valve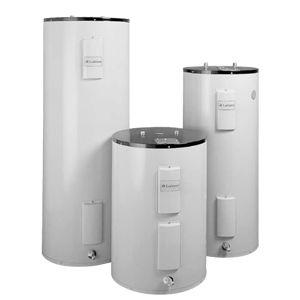 All models available with either a Six Year Limited Warranty or a Ten Year Limited Warranty Against Tank Failure. All parts are warranted for six years. Three year limited warranty on all models when installed in a commercial application.